Custom order: new feature!
We've just released our Custom Order! In case you wanted something extremely special or rare and were unable to find it on our site – feel free to use our Custom Order, and we'll do it in no time!
What is it?
Custom Order is your specific game request, created for the situations when you can't find the thing you're looking for on our site. There are tons of different items from different games on Boostcarry.com, and it's impossible to add everything to our catalog. But if something is present in the game – we can find it and get it.
What's the procedure?
You make a request in our special form and leave your contact info there. Our specialists evaluate the difficulty of your request, then contact you to specify some details, and in the end, we come up with a price. If everything is good – we create a custom order for you and start our mission.
Where can I find it?
It's the first product in every section for every game. Also, you can just write what you want to our operators in the LiveChat. It looks like this: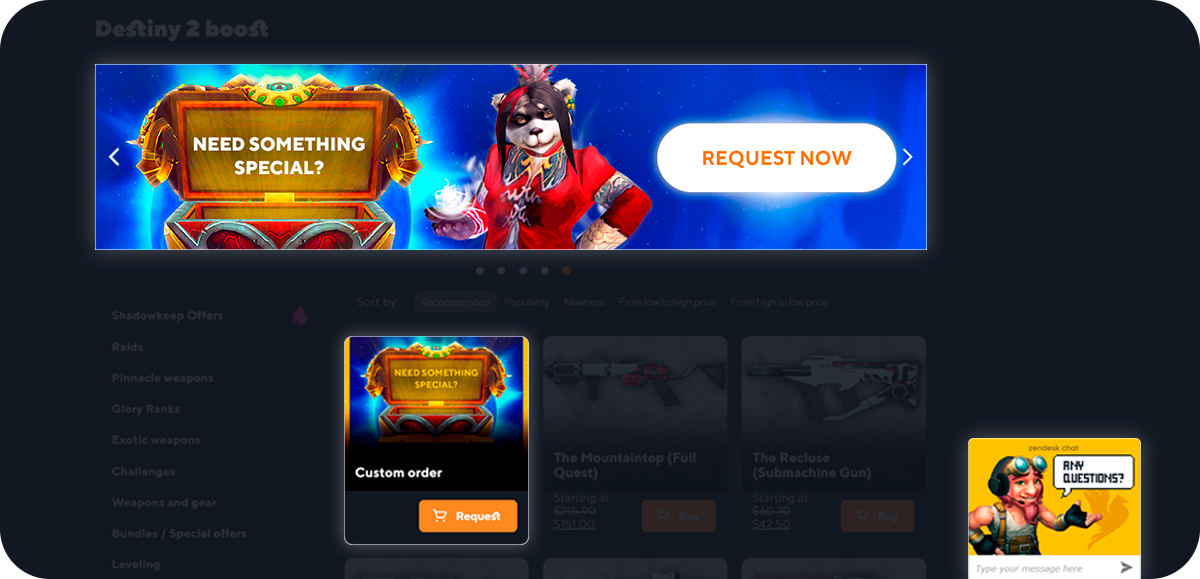 Can you give me an example?
Sure. Let's imagine, that you want the "Breaching the Tomb" achievement for your freshly created character of a different class. You write in down in our Custom Order, and we're good to go! Or you can ask our Operator about that – it'll be the same.
Special Legendary for PoE? No problem. Exact number of points in Overwatch? Sure thing. Everything you want!
Or, you may want that very special item or weapon for Destiny 2 – even if we don't have it at the moment, we can make it for you! And it works like this for all our games. Feel free to order and ask!
We hope that now you can use our Custom Order efficiently. Get your specific things, achievements and gear in a blink of an eye!